A PAN card agency is a business or service provider authorized by the Income Tax Department in India to facilitate the issuance of Permanent Account Numbers (PAN) to individuals and entities.
A PAN card is a unique 10-digit alphanumeric identification number assigned to each taxpayer, which is essential for various financial transactions and tax-related purposes. Pan card agencies act as intermediaries between the applicants and the authorized entities responsible for processing PAN card applications, such as the National Securities Depository Limited (NSDL) or the UTI Infrastructure Technology and Services Limited (UTIITSL). PAN card agencies play a crucial role in guiding applicants through the application process, verifying documents, and ensuring compliance with the necessary guidelines and regulations. Their services are highly sought after due to the widespread need for PAN cards in India's financial and taxation ecosystem.
Why should you start a Pan card agency?
Starting a Pan card agency is proved to be a profitable business because of the following reasons:
Steady demand for instant Pan card: PAN card is a mandatory document for various financial activities, including filing taxes, opening bank accounts, conducting high-value transactions, and more. With the increasing number of individuals and businesses, the demand for instant PAN card services is likely to remain steady.
Low investment and operational costs: Starting a PAN card agency doesn't require a substantial upfront investment. You would need a physical space or even an online presence- for a steady client base, a computer, and an internet connection to begin the operation. This makes it relatively easy to start a business without significant financial risks.
Commission-based earnings: PAN card agencies or PAN card agents earn commissions on each PAN card application processed. The more applications you process, the higher your potential earnings. It provides an opportunity to generate a steady stream of income without relying on product sales.
Value-added services: While the primary service is assisting people in obtaining PAN cards, you can expand your services to include other offerings which are required daily like mobile recharge or DTH recharge, bill payments etc to increase your income.
Government support: PAN card agencies are authorized by the government, which lends credibility to your business. The process is regulated, and you can expect the government's support and guidelines in carrying out your operations.
Ease of operations: The process of applying for an instant PAN as well as for Pan card correction has become more streamlined and accessible over the years. The income tax department and the government have made efforts to simplify the process, making it easier for agencies to assist applicants.
Scope for expansion: Once your PAN card agency becomes well-established and gains a good reputation, you can explore the possibility of expanding your services to include other related services which you can provide to your existing client base and increase your income..
How to fill online pan card application and start your own Pan card agency?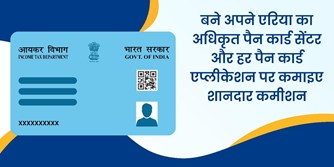 To start your own Pan card agency you can fill online Pan card application with Biznext with the following steps:
Signup using your phone number in the Biznext web portal or Biznext mobile application
Complete your process of E-Kyc
Activate your Pan card service from the service portal
By following the above steps, you will be able to activate the pan card service and offer the service of making new UTI pan cards as well as offer the service of Pan card correction.
To know more about Pan card service, you can contact Biznext at – 022 42123123